How do you appear to others at your work place? In the last several years, especially the last decade, the rules have relaxed so much, that I am hearing employers wish some of their employees would dress more appropriately for work. In my opinion, general rules for women are: no cleavage, no spaghetti straps or strapless tops, and skirts or shorts should be below fingertip length. (remember high school?) For men, shirts should have collars for most settings, but here in the Northwest, Microsoft employees can literally wear anything they like. That doesn't always fly with every company, however, so look around to see who is dressed the best, especially in jobs above yours, and follow their examples.

Does your company have a written dress code? I can help put together a simple list or a published manual. How do you decide what to wear to work?
Powered by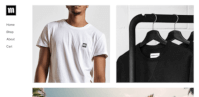 Create your own unique website with customizable templates.