Testimonials from clients who learned to Look Their Best . . .
"Just wanted to let you know how free I feel to dress like ME! I'm TIRED of dressing like an old lady! It is so freeing to dress like I really want to and NOT worry about what other people think! What a difference it has made on me mentally, too! Always thought I had to dress "business-like" to be appropriate. Felt like my bohemian look wasn't acceptable in certain arenas...Don't care now! :) Thank you so much for helping me clear out my closet and teaching me how to shop for my style!" --Carol

"I had a political event last night, and I wore one of the outfits you helped me assemble. I felt fantastic and confident as I faced a room full of strangers and was able to toss aside my usual worries about how my clothes looked. It was like I had a "seal of approval" from Patty Pacelli, and I could face anything!" --Allison

"Patty was such a huge help. My closet was overflowing and disorganized. Patty helped me go through the closet and decide what to keep and what to give away. She was able to tell me what clothes were attractive on me and why and what clothes weren't working on my body. . . .I am so grateful for Patty's help. Lately, people compliment me on what I am wearing and how great I look. It's a wonderful feeling!" --Ann

"Patty has a wonderful talent for taking into consideration the whole person, including their body shape, age, interests and personality, and then helping them understand the best clothing for them. She painstakingly helped me go through my closet and eliminate the clothes that were either out of style or less than flattering, took into account what was left and then helped me make a list of essentials to round out my wardrobe." --Joanna

"I thank you for quite an amazing experience. I had no idea how therapeutic it would be to go through my closet. All the clothes that we got rid of are clothes that I never wear anyway, and I now feel like I have the room to start adding some key pieces to enhance my wardrobe. Your suggestions are creative and insightful - I can't wait to continue our consultations. I greatly value your expertise." --Tama

"I now feel good about everything that is hanging there and ready to get creative and start looking for some new pieces. So, thank you. I am sure it is awkward for you at times to say the uncomfortable truth, so I wanted you to know it was a blessing to me. Enjoyed your book too." --Marilyn


Powered by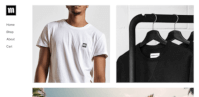 Create your own unique website with customizable templates.